Losing teeth is a painful and traumatic experience. Many people find that their confidence to smile is affected, as well as their ability to eat normally and speak plainly.
In previous years, bridges that attach to the surrounding teeth and dentures were the only possible options for tooth replacement. Modern dentistry offers a much more natural and permanent solution in dental implants.
A dental implant is essentially a replacement tooth root.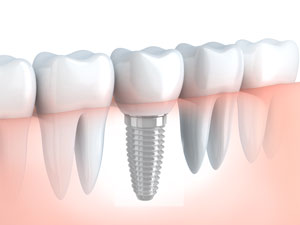 They are attached to the jawbone where the missing tooth root once was. Once healed, a dental implant is permanently fused to the bone, mimicking a natural tooth root. The implant is covered with a crown made to look just like your own natural tooth.
There are many advantages to dental implants, both cosmetically and from a health standpoint.
Dental Implants for a Beautiful, Natural Smile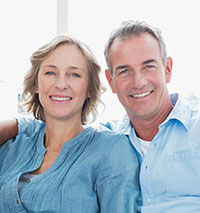 Dental implants mean you won't have to worry about your smile anymore!
Crowns that make the "tooth" part of an implant are made using your teeth as a model. Your dental professional will take an imprint of your bite pattern to make sure your new tooth or teeth will fit in perfectly, and the color is matched so that the implant doesn't stand out.
Implants that feel Completely Natural
Another advantage of implants is in avoiding the "full-mouth" appearance and feel of dentures. Many dentures are thick enough to see a noticeable difference in the gums and teeth, and that fullness can cause slurred speech and difficulty eating.
Throw Away those Messy and Ineffective Adhesives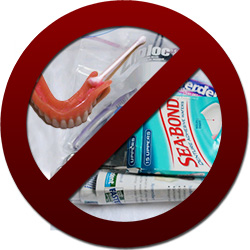 Dentures require adhesives to attach them to the gums, a substance that can be messy and sometimes doesn't work well at all. The permanence of dental implants is often a relief to those who've struggled with finding an adhesive that will make their dentures stay in place.
You'll also never have to get up in the morning and "put in your teeth" before facing the world!
Dental Implants put Permanent End to Gum Pain
Dentures that slip and slide can cause sore and irritated gums. After the initial recovery from dental implantation, soreness and irritation is a thing of the past.
Implants Require a Low-Maintenance Hygiene Routine
Dentures require a whole maintenance routine that's added to what you must do for your gums, and bridges leave spaces that are difficult to reach with a toothbrush or dental floss. Since implants are more like a natural tooth, the care and cleaning routine is as simple as flossing and brushing regularly.
Dental Implants Keep your Jawbone Healthy and Strong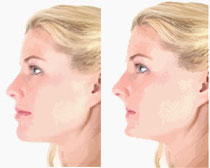 Without implants or natural tooth roots to stimulate the jaw, bone loss occurs causing a sunken jaw.
The biggest health concern with missing teeth is the gradual disintegration of the jawbone. Without tooth roots to help keep the bone healthy and regenerative, the bone slowly begins to dissolve. Eventually, the whole structure of your face can change in appearance. The result is a shrunken jaw, giving you the look of someone decades older than you are.
The "fake roots" of dental implants will fuse to the bone and act just like natural tooth roots in keeping the jawbone firm and strong. Your jawbone will naturally regenerate and stay strong around it, holding your new tooth root in place, and retaining your youthful appearance.
Enjoy all your Favorite Foods with Dental Implants
Another health benefit of replacing teeth is indirect but very real. Missing teeth and ill-fitting dentures can cause limited diets, as you seek out only soft foods that are easy to chew. By severely restricting your diet in this way, your body probably won't get the nutrients it needs, potentially causing many different health problems.
Dental implants allow you to chew without pain and fear of slipping, meaning you can enjoy foods you've always eaten.
No Need to Reduce Surrounding Teeth to Support Bridges
Bridges require reducing (cutting down) the surrounding teeth and using them as an "anchor" for the bridge.
This is unhealthy for not only those teeth being reduced, but for the entire mouth…many times those reduced teeth eventually need extraction themselves, thus creating an on-going pattern. The reduced teeth are at high risk for cavities and decay.
Strong and Sturdy Teeth that Won't Decay
Since the crown on a dental implant is not real enamel, there is no risk of a cavity, tooth decay, or sensitivity in a replaced tooth. Your replacement tooth will also never need a root canal!
A Proven Successful Tooth Replacement Option
In the last 35 years, millions of dental implants have been placed, and for the last decade, the procedure has had a success rate of 95%.
A Safe and Secure Dental Procedure
As long as you are healthy enough to undergo typical dental procedures (such as a tooth extraction), there should be no concerns about having your tooth replaced. The recovery time is the same as with any oral surgery, you'll have to stick to soft foods for a few days to a week, and can expect to be fully healed within just a few months.